What is a DCT dual clutch transmission
10 years of Honda DCT: Clutch freedom celebrates anniversary
The Honda double clutch transmission DCT - stands for Dual Clutch Transmission - is still unique in the world of motorized two-wheelers. DCT came onto the European market for the first time with the Honda VFR 1200 F, which was introduced in 2010. Other models followed later that carried the DCT as standard or as an option. These include, for example, the Africa Twin, the Crosstourer, the NC models 750 X and 750 S, the Integra large scooter, the X-ADV adventure scooter, the exotic NM4 Vultus or the CTX 700 and the new Gold Wing. The latter even carries a DCT with seven gears. To date, the Japanese have sold over 140,000 DCT motorcycles in Europe.
This is how DCT works
With the DCT dual clutch transmission, the driver is free to choose the gear himself at the push of a button or to have it shifted using the electronic transmission control. The shifting maneuvers take place without interruption of the tractive effort and without having to pull a clutch. The technology behind it: two clutches, one for the odd gears 1, 3 and 5 and one for the even 2, 4 and 6, work together within fractions of a second when shifting. They ensure a faster and smoother change of gears.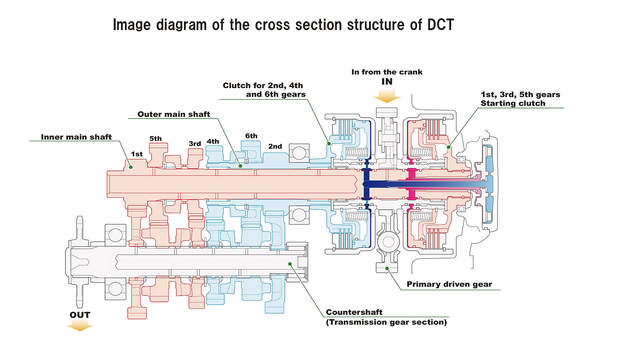 In the electronically controlled AT mode, the dual clutch transmission changes gears automatically. The coordination of the control electronics can be preselected in various stages at the push of a button. The intelligent software even detects inclines and declines. In manual mode (MT), the brain and thumb take control, the gears are shifted with the left hand using pushbuttons on the handlebar. Honda is currently paying for the DCT comfort, if it is offered for a model, with surcharges of around 1,000 to 1,100 euros.
Over the course of his career, DCT has continued to improve. The latest features include hill start assist, walking mode and automatic start / stop in the Gold Wing.
For many motorcyclists, mechanical shifting is simply part of the driving experience. But if this is annoying, Honda will spoil you with the DCT gearbox. This creates a quasi automatic feeling.