Getting Around in VR: Oculus Releases Design Guide
Oculus divides VR locomotion accordingly into physical and artificial locomotion. Under physical locomotion falls during all movement that one makes with one's physical body artificial locomotion is brought about by pressing a button or an analog stick and only moves the virtual body or virtual environment.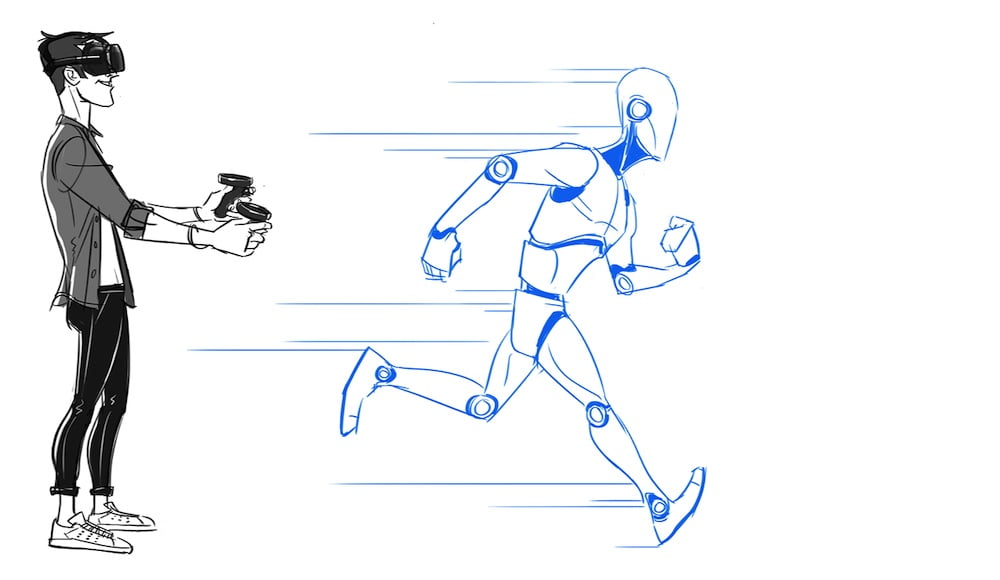 Set the virtual body in motion with the analog stick: This is the most common type of artificial locomotion. | Image: Facebook
The former type of locomotion has the disadvantage that it is physically limited, for example by your own four walls, while artificial locomotion is less immersive or can lead to VR nausea.
In recent years, a variety of VR locomotion methods have emerged that use physical, artificial, or both modes of locomotion in a variety of ways. In a guide, Oculus presents the most important designs and describes the strategies that can be used to prevent VR nausea.
VR locomotion: not only interesting for developers
The manual is divided into six chapters:
Common types of artificial locomotion: Oculus explains the most common types of artificial locomotion, including fluid motion and teleportation.
Controlling artificial locomotion: An overview of the possibilities to bring about and control artificial locomotion, for example by pressing a button, an analog stick or viewing direction.
Design challenges:What special scenarios of artificial locomotion are there and how can they best be implemented? Examples: climbing, crawling and jumping.
Playing comfort and user-friendliness: Oculus explains here how to prevent VR nausea and fatigue in players and how to design them for small play areas.
Techniques and Best Practices:The final chapter builds on the findings of the previous one and explains a number of specific techniques that improve the comfort and accessibility of the VR gaming experience.
The guide is aimed at developers, but is also of interest to researchers and gamers who want to get an overview of types of VR locomotion.
The design manual, along with other resources and instructions, can be viewed on the Oculus developer page and follows general design guidelines for VR apps, which are intended to ensure accessibility and better accessibility.
Source: Oculus Blog, cover picture: Facebook
Read more about FR locomotion:
steady2
Getting around in VR: Oculus publishes design guide was last modified: January 24th, 2021 by Tomislav Bezmalinovic