What is Fruity Loops in Music
FL Studio 20 - music production software
by Marc Bohn,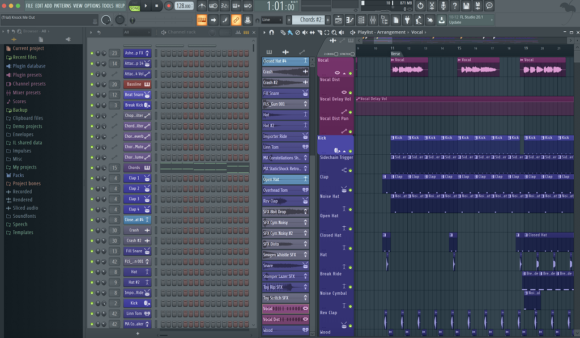 I tried Fruity Loops in the early 2000s because it was free. For someone like me who produces handmade music, it was the wrong approach back then: There was no recording function, the drums all sounded electronic. For my style of songwriting and the way I produce, other DAWs were just more workable. I was also deterred by the fact that my younger cousin was messing around with it, who really had no idea about making music and was using the software as a tool to simply program hip-hop beats with his "homies" at water pipe, apple-flavored tobacco. At the Tonmeistertagung 2018 I meet the FL Studio product specialist Phil Carstens and chat with him about the beginnings, the latest developments and the future of FL Studio and answer the question: Is FL Studio still a children's hip-hop? -DAW?
You can subscribe to our podcast here:
RSS | Spotify | Apple Podcasts | Deezer| Overcast.fm | YouTube
Here you can find an overview of all podcasts!
At the end of the 1980s, today's FL studio programmer Goll developed computer games. Then he went in the direction of stock market software, before he developed the then Fruity Loops in 1997. The release came in 1998: a small 4-track sampler with a step sequencer grid, which is still the heart of FL Studio today. Up to version 3, Fruity Loops was free. In 2003, Image Line decided to market its software as a chargeable boxed version and to sell it worldwide. The first purchase version was Fruity Loops 4 in 2004, which was already available as a download in the online shop at that time. In 2018, FL Studio was 20 years old, »a time in which a lot has happened. The DAW will continue to develop steadily in the future, "says Phil, who many may know as" Fruity Phil ", and adds:" In the past, FL Studio was a pure MIDI interface: loading samples and triggering them via MIDI. Recording functions were not yet integrated. Back then, playlists were blocks that you set. Today they are displayed with transparent pattern containers in which you can also see the notes, MIDI contents and automations etc. In version 5 you could then also record audio material directly in the software. From then on, FL Studio became a complete recording and sampling software.
In the meantime, a performance mode has also been integrated to call up your patterns live. A Mac version has also been available since 2016, although it is not yet completely identical to the PC version. The reason is that we are working with a 64-bit structure and do not support 32-bit on the Mac. Various plug-ins and effects are not yet available. We'll be back soon. GUI elements such as mixers, plug-ins and the like were also scalable. The scope of the integrated plug-ins, software instruments and functions is impressive. In May 2018, on the 20th birthday of FL Studio, the opportunity was used to jump from version 13 to 20 and to adapt the version according to the age. "
Phil, I still associate a bit of hip-hop with FL Studio. Is that still your target group?
My personal focus is hip-hop, which is where I come from. The network is just huge, and you can't really ignore FL Studio. Even Timberland worked with FL Studio when he built his workstation Miko (Open Labs), and the list of our artists from the fields of IDM and hip-hop is long. With Avici, one of the most successful has of course passed away. But now we also have a lot of metallers who use FL Studio. You might not think it's possible, but FL Studio is now available in all genres.
Where do you see the benefits of FL Studio?
One of the advantages is that FL Studio is also a VST plug-in and can easily be loaded into another DAW as a plug-in. That makes us very flexible and compatible. A DAW hardly offers functions such as a step sequencer. And if you would like this function, you can take our Fruity version, simply integrate it as a VST and create patterns.
Further advantages are the modular routing options and the assignment of various functions to buttons you have created yourself. You can connect external controller hardware, regardless of the manufacturer.
How do you deal with the image of the »children's DAW«?
In the 15 years that I've been working as a promoter for Image Line, someone kept coming up and saying: Oh, this is a children's DAW! But it's really a grown-up DAW now. We have up to 125 channels in the mixer, and if you have 125 inputs and outputs in your interface, you can, for example, record an orchestra and play it out again.
As already mentioned, you can hang up on the stage in PerformanceMode. I myself use FL Studio as a backing system, from which all the tracks, click tracks, etc. are fired. In addition, I can play synthesizers, and really with very low latency.
Of course, we realize that we still have this image in part, but we work with users who also use other DAWs. Their creative output really often comes from FL Studio. Sure, mixing and mastering works better in other DAWs.
Is it perhaps also an expansion of creativity if you work with several DAWs and leave your usual workflow?
Definitely! Most of the DAWs we know are track-based. You have an arrangement window, the tracks are listed one below the other, on which either a software instrument or an audio track is running. It's different with us: We have a kind of channel rack, like in the past in the studios, where I can load my instruments into it. Of course, I also have to "wire" them up to the mixer so that the sound comes from the master. Since we work pattern-based, i.e. with small transparent containers in which, for example, the melodies, automations and various MIDI information are contained, I have the opportunity to design my playlists freely. So I can put an automation event, all MIDI data and information on each track, and the contents are still visible. So, if I want to work with very precise timings, I can superimpose audio, MIDI and automation data and really adapt the automation to the audio material and program trips. I can then simply copy these automations to other instruments using drag & drop. With other DAWs you have to use the timelines as a guide. Of course, this is also a great help for drum editing or editing in general.
Where are we in terms of price?
The entry-level version "Fruity" costs 89 euros, has no recording function and does not have the complete package of instruments and effects, which is then staggered depending on the version. The producer bundle costs 199 euros, offers the recording function, a wave editor, sampling, etc. The signature bundle costs 290 euros and also includes additional plugins such as the pitcher NewTone to correct or manipulate the pitch of monophonic audio tracks. Of course, software instruments, synthesizers and effects are also included in the various bundles, so the range is larger depending on the level. There is also a selection of libraries and plug-ins that can be purchased in a shop. The all-plug-ins bundle then costs 899 euros and includes the entire range.
What can you expect from FL Studio in the future?
We are now at version 20.05. That said, we released an update to integrate the Akai Fire controller that was developed for FL Studio. Version 20.1 will be available soon. We used to have a button in the Channel Rack that practically set the pattern to loop. This allowed you to let your pattern run and work or import it in the arrangement at the same time. We bring this looping back again, where you can then set different step lengths from channel to channel and work polyrhythmically. That will also be supported by the Akai Fire.
In the long term, we also want to increase the number of possible tracks from 125 to more. Plug-in delay compensation is an issue for us, but we are dependent on the information from third-party providers because it cannot be read out with every plug-in.
From children's chocolate to Lindt Excellence
You really have to admit that FL Studio has blossomed from a free "I'll do a few beats" DAW into a comprehensive production tool that leaves little to no wish unfulfilled. And the price is right too! Since I'm a Mac user, I had to accept a few deficits, as Phil has already mentioned, but I was really positive about the scope of the effects, the sounds and the instruments, and there was really nothing to complain about the sound. Of course, the character of IDM and hip-hop somehow resonates, but that is obvious and is probably also intended.
Even if it's just not my world, FL Studio is a serious alternative to Ableton Live for electronic producers and beat makers! I recommend that anyone who wants to get their own picture of FL Studio 20 download the 30-day trial version and experiment with it. Have lots of fun with it!
www.image-line.com/flstudio
You might be interested in that too