How many pages per cassette
•
The following print qualities are available:
| | |
| --- | --- |
| • | This is a mode for photos (density gradation priority). Select this setting when printing photos with varying degrees of black. You can use this mode to print soft contrasts between different shades of gray. |
| • | This is a mode for graphics (priority on contrast). Select this mode to display texts and images in e.g. B. Print business documents and presentations. This mode allows you to print sharp contrasts between shaded areas. |
| • | This is the best dither pattern for business documents such as presentations with text, graphs, or charts. It is particularly suitable for solid colors. |
| • | This print mode is ideal for printing text documents. |
•
Improve the print result ...
This function can improve the print quality.
•

Avoid curled paper

This setting may help you avoid curled paper. If you only print a few pages, this setting can be neglected. We recommend setting the printer driver setting for print media to use thinner media.

•

Optimize toner fixing

You can use this setting to improve the fusing of the toner to the paper. If this selection does not produce satisfactory results, choose Thicker Paper in the Paper Type setting.
•
If the printer does not receive any data within a certain period of time, it goes into energy-saving mode. In power-saving mode, the printer appears to be switched off. The default setting for the time limit is 1 minute. To change the power saving interval, select Manual and then enter the time limit in the text field of the driver.
While the printer is in sleep mode, all LEDs except the dimly lit status LED are off, but the printer can still receive data. When a print file or document is received, or when the Go button is pressed, the printer is automatically activated to start printing.
For more information on changing the setting for the Power saving interval can be found on the product page at http://solutions.brother.com/ under "Information".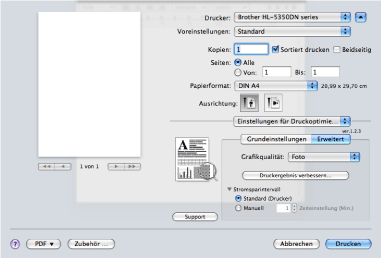 •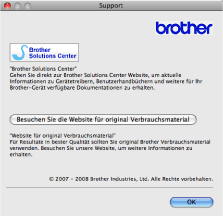 •

The Brother Solutions Center website (http://solutions.brother.com/) provides information about your Brother machine, the latest drivers, user guides, answers to frequently asked questions, and tips on using your machine.

•

Original consumables website

Click this button and you will be taken to our website for genuine Brother supplies.