What is assistive technology
What are assistive technologies?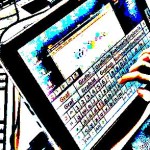 Supportive technologies help people with "support needs" to shape their lives independently. This can be a wheelchair, an elevator or a hearing aid.
In the computer sector, the main focus is on technologies that enable access to computers, the Internet and mobile communication and their equal use. The adaptation and accessibility of conventional products with a universal design should also be taken into account.
Aims:
Supportive computer technologies enable people with and without disabilities, regardless of age, to participate equally in school, training, work and leisure.
Examples:
Cell phones, smartphones, special keyboards and mice, speech recognition systems, technologies for people with visual impairments, communication aids for people without spoken language, eye control technologies for people with ALS (amyotrophic lateral sclerosis), barrier-free learning and training software, input aids integrated in software, ergonomically designed computer technologies in the workplace
Regarding individual suitability, you should seek independent advice.
CategoriesFAQsTagsAssistive Computing Technologies, Assistive Technologies, Disability, Computers, Assistive Computing Technologies