The Viking Blog
Even in the age of e-mail and other forms of electronic communication, we need envelopes to send cards, vouchers and invoices, for example. We open them almost every day, but would you know offhand which envelope format is the most common for business letters? Different sized envelopes are suitable depending on the shipment. Like paper formats, most envelope sizes are also defined according to a DIN standard. We have put together an overview of the envelope formats most frequently used in Germany.
C4 envelope: large letter
C4 envelopes are available in landscape and portrait format and measure 229mm x 324mm. These so-called large letters correspond to the DIN A4 format, which is why C4 envelopes are particularly suitable for sending contracts and certificates in this format.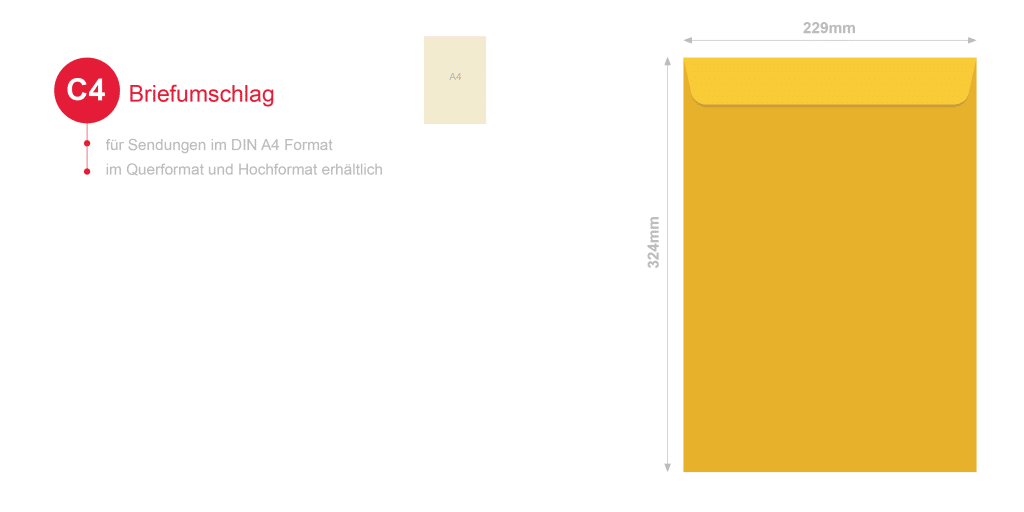 C5 envelopes are best suited for items in DIN A5 format or for those in DIN A4 format that can be folded once in the middle. A C5 envelope measures 162 mm x 229 mm and is known as a compact letter.

C6 / C5 envelope: standard letter
This format is one of the most commonly used as it is suitable for sending A4-sized letters that are folded twice across. Most business letters that are filled by machine are sent in C6 / C5 envelopes. They are standardized to 114 mm x 229 mm.

DIN long (DL) envelope: standard letter
The DIN long or DL ​​format is slightly smaller than the C6 / C5 format with 110 mm x 220 mm. However, it is big enough for an A4 document folded twice. DIN long envelopes are also mainly used for business letters, but for the type that is filled by hand. So they are among the most popular envelope sizes.

C6 envelope: standard letter
If you fold a DINA4 page once on the long side and once on the short side, you get the DINA6 format, which fits ideally into a C6 envelope of 114mm x 162mm. C6 envelopes are also suitable for DIN A5 pages that are folded once on the transverse side, or many types of greeting cards and postcards that are standardized to DIN A6.
The formats listed above are by far the most common envelope sizes in Germany. The less frequently used envelope sizes include C0 to C3 and C7 to C10, which have not been included in the current DIN 476-2 standard.
Correctly label an envelope
The question of how to label an envelope seems banal at first glance, but it is quite justified, especially if you are sending a letter for the first time in a long time or want to label an envelope with a window. In addition, there are big differences between the correct addressing of envelopes of different sizes and when mailing abroad.
At the top left is the address of the sender, also marked as such with the heading "Sender". You are free to leave out your address, but if there is an error in the recipient's address, the letter will not find its way back to you.
The recipient's address is at the bottom right and is divided into at least three lines:
Recipient name
Street with house number
Zip code with city
If abroad: country
So that the mail can be scanned properly, at least 2 cm of space should be left down to the edge and to the right.
Regardless of the format just the front labeled by envelopes. Even the sender should be written on the front, as information on the back is not processed.
Correct labeling of envelopes is important because deviations from the norm can lead to delays or a return to the sender.
The lettering of envelopes of various sizes
Now that you know everything you need to know about the most common envelope formats and how to address them, let's turn to the correct labeling of different formats of envelopes.
Compact letters (C5 envelopes) are to be labeled like standard letters.
In the case of large letters in C4 format, it should be noted that they are always labeled using the same pattern as standard letters, i.e. in Landscape format. C4 envelopes are only recognized with the window in portrait orientation.
In the case of envelopes with a window, the recipient's address is always affixed to the top left of the A4 letter so that it appears in the window of a standard letter if the letter is correctly folded twice. A large letter (C4) with a window does not need to be folded.
Print envelopes
If you send several (business) letters at once, you can save time by printing the envelopes instead of addressing them by hand. You can either print the recipient addresses on labels and stick them on the envelopes, or you can print the envelopes directly. To do this, follow the instructions in your Microsoft or Mac word processing program. Addresses can also be saved in this way - another time saver if you regularly send letters to the same addresses.
We hope that our overview will help you to find your way around the envelope jungle in the future. For more information on everything to do with office and work, take a look at our Facebook page or on Twitter.